Square Genest Fire Pit
The Genest Outdoor Square Fire Pit has a modern design and comes in two standard color blends to accent your landscape. Made with solid block construction and easy to assemble, it will be a family favorite for years to come.
Finished Size: 49″ x 49″ x 15″ (Inside: 24″)
Pallet Weight: 1,620 lbs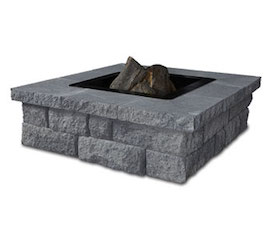 WHERE TO BUY
PRODUCT GUIDE
RESOURCES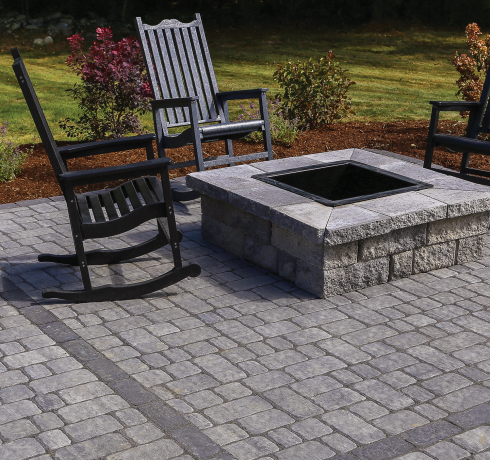 Installation Guide
Installation of the Genest Outdoor Square Fire Pit (must be removed from pallet):
Determine the location and mark out the size of the square (49″ x 49″).
Create a solid base by removing 6″ of material within your marked square. Fill this area with 6″ of compacted gravel and level.
Install the 1st and 2nd rows of block on the gravel base according to Diagrams 1 & 2.
Apply a masonry adhesive to cap blocks and install per Diagram 3. Allow 48 hours for adhesive to cure.
Install the square metal protective insert.
Fill the bottom of the pit with 3/8″ or 3/4″ crushed stone.
Square Firepit Downloadable Instructions


Product Information
Square Fire Pit

Finished Size: 49" x 49" x 15" (Inside: 24")
Metal Insert

Additional Information:

Metal insert not shown to scale.
Cooking Grate

Additional Information:

Heavy gauge steel cooking grate - not shown to scale (sold separately)