About

Why Choose Genest?
Casual elegance has never looked so good – or been so easy to achieve.
With Genest's superbly crafted finished concrete products, your next project is guaranteed to deliver on what matters most: beautiful results that reflect your unique style and vision. From outdoor living spaces, downtown sidewalks, high profile commercial projects, sustainable and energy efficient wall systems, paving and retaining walls, Genest makes it all possible.
What's more, we make it easy. In fact, our unwavering focus on customer service is a big reason why homeowners, architects, contractors and distributors have trusted Genest for four generations – making our Maine-based company one of the largest and most respected sources of concrete products in all of New England.
With Genest you get:
The region's most extensive selection of masonry products
Samples you can see and touch
High-quality products that are built to last
Hassle-free ordering and on-time delivery
Responsive, attentive service, every step of the way
It all adds up to unparalleled value – and a partner who's as committed to your project's success as you are
Our History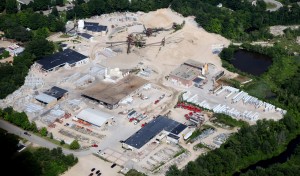 Genest began serving the masonry industry in 1927, when Hermangilde Genest crafted hand-pressed concrete blocks at his gravel pit in Sanford, Maine. His son Gerard soon joined him, building the company into one of New England's largest manufacturers and distributors of masonry products for the building trade, architects and homeowners.
Today, we remain a Maine-based, family-owned business as the third generation and fourth generation of Genests sustain the company's mission of offering quality products, exceptional service and outstanding value.
Through our research and development capabilities, we continue to explore what's next, new and innovative – ensuring that you have access to the latest designs and materials. And our rigorous testing processes, which greatly exceed the mandated industry standards, ensure that you get high-quality products that are built to last.
Testing
At Genest, all of our products undergo rigorous testing at our in-house lab, by our dedicated staff of certified concrete technicians, to ensure our products not only meet, but exceed the tough ATSM standards. All products are tested to make sure they can stand-up to the harsh Maine climate with its freeze/thaw cycles and extreme heat/cold. Our testing process gives us the confidence to ensure our customers are getting a high quality product at a great value.
Our Commitment to Sustainability
Genest is built on values we believe distinguish us, and which guide our actions, every day. We are committed to practicing sustainable manufacturing to minimize negative environmental impacts. We continuously monitor our fossil fuels used during the manufacturing process with the goal of reducing our carbon footprint. All of our products utilize maximum amounts of recycled products and we strive to use locally extracted and regionally resourced materials that are economically sound, that are safe for our employees, our communities, and our customers.
Mission Statement
At Genest, we are committed to the design, development and manufacturing of state-of-the-art finished concrete products. Every day, we strive to deliver on our promise of high quality, outstanding customer service and exceptional value to our customers.