Careers

FNM Note: Check SEO settings before going live
CAREERS AT GENEST
As a small family-owned company, hiring and keeping good people is crucial to our business's success. When you come to work at Genest, we want you to enjoy being part of our team, and we want to create an environment where you can do your best work.
Our holiday parties and summer BBQs are a lot of fun (if we do say so ourselves), but we know that's not what keeps our employees coming into work for the rest of the year. You spend a third of your life at work. It should be a place where you feel happy, motivated, and supported. We want you to look forward to coming in to work with us every day, and we think the number of folks who have been on our team for 15, 20, or 30+ years – including second- and third-generation Genest employees – means we must be doing something right.
We offer on-the-job training and opportunities for advancement so that you can continue to develop your career. Many employees who started with us as yard associates and forklift drivers have worked their way up to supervisory roles or sales positions. At Genest, we value your individual skills, experience, and contributions whether you're operating our machinery or selling our products. Your work and dedication is acknowledged and appreciated.
WE PROVIDE OUR EMPLOYEES WITH A GENEROUS BENEFITS PACKAGE
Full Medical package: Health, Dental, Vision
Paid Life Insurance
Paid Short Term & Long Term Disability
Generous Paid Time Off
Paid Holidays
Paid Family Leave
Retail Center Discounts
401(k) with match and profit sharing
If it sounds like we might be a good fit for each other, please send us an application! We'd love the opportunity to talk to you about joining our team.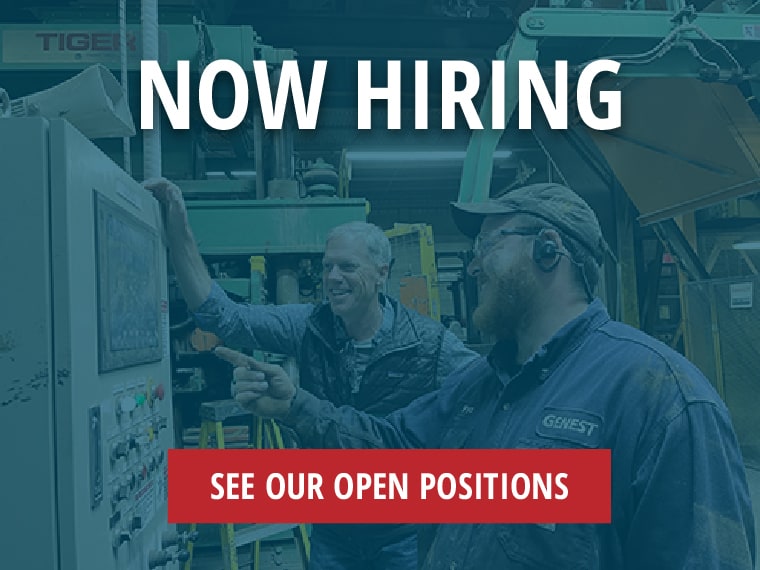 EMPLOYEE TESTIMONIALS
"The benefits that you get at Genest are some of the best around. Their 401k plan and their profit sharing that they add into that is pretty top notch."
"I've noticed that there is a great opportunity for upward movement within the company. All you really need to do is put in some hard work and be dedicated."
"A real benefit to working here is the work-life balance. If there's anything you need, they understand, they're very considerate and they'll work with you."
"I'm a third generation to work here, and right from the moment I got here, it's been a great place to work. They take good care of you."
"The best thing for me is the people I get to work with. They're just fantastic — it's kind of like one big family, more or less. As long as you're willing to work, there is a place for you here."
CURRENT OPEN POSITIONS
Retail Sales Associate (Sanford, ME and Biddeford, ME)
RETAIL INSIDE SALES REPRESENTATIVE – HARDSCAPE & MASONRY
At our three retail stores in the state of Maine serving the hardscape and masonry industry, our friendly and knowledgeable retail inside sales associates are dedicated to ensuring that our customers and contractors are provided with everything that they need.
ESSENTIAL DUTIES:
Offer customers and contractors estimates and quotes for masonry, hardscape, and landscaping products
Execute full sales transaction cycle; processing with cash, checks, credit cards
Field and assist customer and contractor inquiries
Engage customers with your professional sales, communication, and listening skills
Work as an integral part of the team
WHAT YOU BRING TO THE TEAM:
Knowledge of landscaping, masonry, concrete pavers, retaining walls, and/or general home improvement and landscaping experience
Mastery skills in customer service; phone and face-to-face interactions
Sales experience of hardscape and/or related industry is an advantage
General computer knowledge (Preferred: MS Office Suite)
Ability to multitask and work diligently in a fast-paced retail environment
Strong desire to learn and follow instructions and procedures
WHAT OUR REQUIREMENTS ARE:
Successfully pass a pre-employment physical exam
Able to occasionally lift and/or move material up to 50-75lbs
Operate a Forklift
Exhibit punctuality, dependability, and reliability
Possess an optimistic attitude and drive to work hard
QUALIFICATIONS:
customer service: 2 years (Required)
inside sales: 2 years (Preferred)
Hardscape or Landscaping: 2 years (Preferred)
JOB TYPE: Full-time
SALARY: $22.00 – $24.00 per hour
SCHEDULE: Day shift, Monday to Friday (half-day Saturdays in the summer)
Machine Operator (Sanford, ME)
Do you want to be part of team that produces concrete products and learn how to produce concrete products?
We worked through a global pandemic and did NOT close our doors or stop production!!
SUMMARY: Safely assist with the daily operations of concrete manufacturing plants & departments as needed; responsible for achieving concrete production goals of EFFICIENCY, QUALITY, and SAFETY
ESSENTIAL DUTIES:
Monitor cleanliness of the machines and the surrounding areas
Monitor product and wrapping quality to assure standards are met
Safely assist with operations of concrete manufacturing equipment
Assist with operating a rolling conveyor
Assist with loading and unloading product
Build & repair wooden pallets
Assist with organizing yard inventory
Other related duties as required in various plants
QUALIFICATIONS
Mechanical knowledge: 1 year (Preferred)
Forklift: 1 year (Preferred)
Welding: 1 year (Preferred)
REQUIREMENTS:
Ability to stand for the duration of your shift
Physical strength and endurance to repeatedly lift product
Safety focused with a production mindset
Prior experience with tools, machines, welding desired
WHAT CAN YOU BRING TO GENEST?
You can problem-solve and mechanically troubleshoot
You can communicate well; both written and verbal
You are highly reliable and punctual
You are able to think outside the box
You are a team player!
JOB TYPE: Full-time
SALARY: $18.00 – $21.00 hourly (DOE)
SCHEDULE: Monday – Friday, 1st shift
Manufacturing Mechanic (Sanford, ME)
RESPONSIBILITIES
Assist with implementing measures to improve: production methods, equipment performance, equipment repair, diagnoses of malfunctions, quality of the product, and preventative maintenance programs
Work closely with staff to optimize process and meet production targets
Assist Supervisor to address inventory volumes and production planning
Engage in dismantling, assembling, and installing equipment, parts, and machinery
Observe mechanical equipment to determine the cause of trouble and appropriate repair solutions
Understand policies and OSHA safety regulations to ensure compliance and a safe work environment.
Build a sound working knowledge of mold components in terms of maintenance, tolerances, and function
Assist with overseeing efforts to identify and implement improvements in areas such as: safety, morale, equipment, processes, and quality
Assist with providing guidance, coaching, and promoting retention
Due to the nature of business and production; filling in and operating in other areas is reasonable to expect
An educational background is highly desired in engineering, concrete industry, management, or related field.
Technical or Vocational school certification desired
Experience in concrete manufacturing is highly desired
Exceptional skills with electrical, mechanical, and welding
Strong working knowledge of OSHA and safety procedures
Possess an understanding of concrete production and/or similar manufacturing
Ability to read, interpret, and follow instructions and manuals step by step
Possess computer skills
Exceptional interpersonal and communication skills
Possess mechanical knowledge –  plant-related equipment a plus
Value a commitment to team concepts
JOB TYPE: Full-time
SALARY: $19.00-24.00 hourly (DOE)
SCHEDULE: Monday – Friday, 1st shift, occasional Saturday may be required.
Forklift Operator/Yard Associate (Sanford, Windham, and Biddeford, ME)
SUMMARY: Safely operate a diesel or electric Powered Industrial Truck equipped with forklift to lift, stack, move, load and unload products, equipment, or materials. Assist customers with the loading and unloading of their vehicles. Maintain retail yard and assist customers and Retail Associates as required.
HIRING IN SANFORD, WINDHAM & BIDDEFORD LOCATIONS!
WHAT YOUR DAILY TASKS WILL LOOK LIKE:
Safely operate forklift (Toyota or Linde – electric model)
Perform pre-operations and post-operations checks of forklift
Perform preventative maintenance checks for forklift as required
Build, organize, and package customer orders
Load customer vehicles and/or trailers with the use of a forklift
Review and verify all orders, bill of sales, and other paperwork before loading materials
Load and unload company tractor trailer and delivery trucks
Assist with maintaining the organization and cleanliness of the yard
Safely transport and systemize palletized items, hardscape materials, and other retail items
Assist with inventory control and cycle counts of materials and merchandise
Manually move, load, unload, and stack concrete blocks, pavers, retail merchandise, and other materials
Assist Retail Sales Associates as necessary
Mend and/or restore wooden pallets
Move/Lift materials 75-100lbs
Attend to customers in a timely, professional, and courteous manner
Perform housekeeping tasks and/or duties as required such as: sweeping, cleaning common areas, snow removal, painting, etc.
WHAT YOU BRING TO THE COMPANY:
An optimistic attitude and ability to follow direction
Exhibit punctuality, dependability, and reliability
Relative experience in landscaping or masonry is an advantage
Ability to multitask and work diligently
Ability to work outside in all weather conditions and 4 seasons
Basic math, written, and verbal communication skills
JOB TYPE: Full-time
SALARY: $17 – $20 an hour
SCHEDULE: Monday – Friday, Day Shift (and Saturdays in the summer)