Tradeport
Genest Tradeport Stone with architectural finishes offers a unique and striking look.
3 Finishes Available:
Shot Blast Finish reveals a variety of aggregate and colors while still maintaining a soft and consistent texture.
Ground Face Finish uncovers and exposes the true colors and aggregates hidden within the surface.
Traditional finish with its smooth texture and choice of blended colors or solid colors offers durability and design versatility that today's architectural projects demand.
60mm Thickness for plaza, courtyards, patios or pathways.
80mm Thickness for driveways, parking lots and vehicular access areas (special order)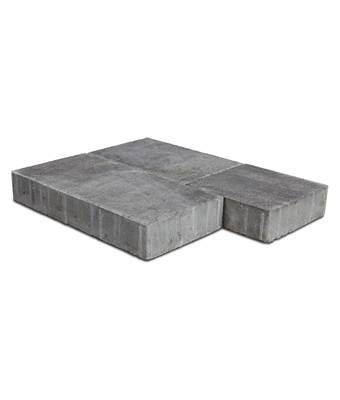 WHERE TO BUY
PRODUCT GUIDE
RESOURCES
Product Information
Three Piece System

Sq. Ft per pallet

114.4 sq ft

Sq. Ft per layer

10.4 sq ft

* All three sizes are together on one pallet.

Call for 80MM product info. Available Special order only
Length

11 13/16" (300 mm)