Round Fire Pit
Nothing brings people together like a nice campfire! The Genest Outdoor Fire Pit is easy to set up and comes in two color blends to match all Genest patio pavers.
Typical round fire pits consist of 48 Genest Fire Pit Blocks and are sold with a heavy gauge metal insert.
It must be removed from the pallet and installed per local fire codes. Please ask your Genest store or dealer for a copy of the installation instructions, it is important to read and follow them before you build or use the fire pit.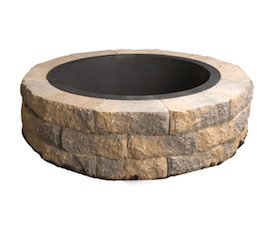 WHERE TO BUY
PRODUCT GUIDE
RESOURCES
Product Information
Additional Information:

Outside diameter: 44"

Inside diameter: 30"
Metal Ring Insert

Additional Information:

Metal insert not shown to scale.
Cooking Grate

Additional Information:

Heavy gauge steel cooking grate - not shown to scale (sold separately)
Stainless Steel Round Fire Pit Screen

Additional Information:

Constructed of heavy-duty stainless steel to help contain the fire and add to the overall look. (Sold separately)